Our team at Moe Plumbing Services is pleased to announce that we will be sponsoring the fundraising event Battle for the Boobs Big Game on October 15 at the Field of Fire, which can be found at the address listed below:
23925 The Old Road
Newhall, CA 91321
The proceeds from the event will go to breast cancer treatment, breast cancer education, breast cancer treatment, and the City Hope. To provide fun and entertainment for guests, a raffle, prize giveaway, and bake sale will be hosted at the event. Guests and participants can purchase lunch at the event as well.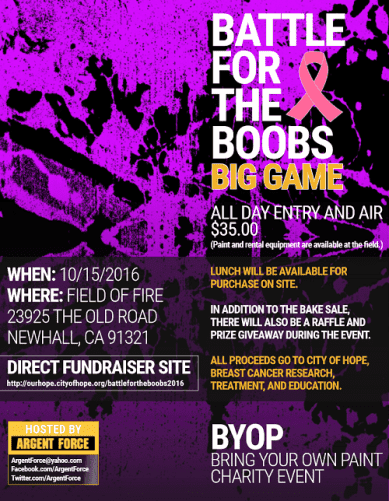 Interested in Participating in the Event?
Individuals interested in playing can rent equipment and paint at the field on the day of the event. Entry will cost $35.00. If you are interested in participating and have additional questions or concerns, we encourage you to contact our team at Moe Plumbing Services. If you would like to make a donation, we invite you to reach out to City of Hope.
Our Team at Moe Plumbing Services Cares!
At Moe Plumbing Services, our team is dedicated to helping individuals and families affected by serious illnesses and diseases. Because we understand that breast cancer, as well as other ailments, can affect entire families, we stand ready to help in any way we can. We hope that many of you will join us at Battle for the Boobs Big Game!
For more information, please contact Moe Plumbing Services. We can address any questions or concerns you may have.